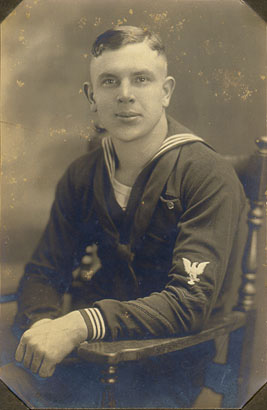 Born in July 23rd, 1903, Donald Gary enlisted in the Navy in 1919.
LT(jg) Donald Gary, USN
Serving in the enlisted ranks, he eventually was commissioned in 1943 to Lieutenant (Junior Grade) in 1943. His assignments, prior to the one that is the subject of this week's story were: Third Naval District, New York City; the Office of Assistant Inspector of Machinery, B&W Company, Ohio; the staff of Commander Submarine Group ONE, New York; and the Naval Disciplinary Barracks, Terminal Island, California. His sea duty tours included ELCANO (PG 38), HANNIBAL (AG 1), SWAN (AM 34), IDAHO (BB 42), and INDIANAPOLIS (CA 35) for two tours.In 1944, LTJG Gary was assigned to the USS FRANKLIN (CV-13) in the Engineering department.Aboard the FRANKLIN on March 19th, 1945, he survived the attack by the lone Japanese dive bomber, and was instrumental in saving the FRANKLIN. Not only did he save 250-300 men trapped below, and organizing firefighting on the hanger deck, he found his way to below to one of the boiler rooms and got one boiler on line, thus providing a source of power for the ship.