LCDR Joseph T. O'Callahan, USNR (ChC)
Born May 14th, 1905, he was destined to serve his Maker and our nation many years later.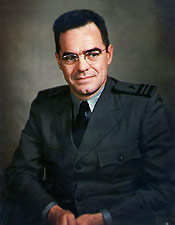 Shortly after completing high school, Joseph entered the
Society of Jesus
shortly thereafter, to begin a 13 year path to ordination as a priest in 1934. Earning his Bachelor's and master's degrees along the way, he specialized in mathematics and science, as well as religious studies. In August, 1940, he entered the Naval Reserve as a LT(jg) in the Chaplain's Corps.
At the outbreak of World War II, Fr. O'Callahan entered the chaplain corps and began a ministry focused on the sailors destined to serve in the Pacific. He was

assigned to the Naval Air Station, Pensacola, Florida, from 1940-42, then served at sea aboard the U.S.S. Ranger from

1942-44, and returned to shore duty at Pearl Harbor into early 1945. His final assignment of the war was to the carrier U.S.S. Franklin, which was given orders taking

it close to enemy territory.

Arriving aboard USS FRANKLIN (CV-13) seventeen days before March 19, 1945, LCDR O'Callahan was assigned duties as the Ship's Chaplain. On the 19th, while sailing close to the Japanese coastline, a lone Japanese dive bomber penetrated the defensive screen of the allied forces, and dropped a single bomb on the aft of the FRANKLIN's flight deck.SteelJaw Scribe detailed the struggle for the very life of the ship that resulted in his recent post. SJS gives a brief description of a bomb, slicing several decks down, wrecking combat loaded planes on the flight deck and ripping open AVGAS fuel lines below, which began an inferno that killed many of the crew, and threatened to sink the ship. The training and response of the surviving crewmen, working alone, in small and large groups, ended up saving the ship, with essentially no command level direction due to the battle damage.